A Look at East Waco
By Shirley Langston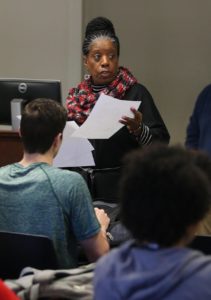 Shirley has vast ministry and corporate experience. She is the Founder and Executive Director of Restoration Haven, Inc., serves as a passionate professional bringing restoration, transformation and empowerment to families in at-risk communities. Alongside of this she works as a Family Support Specialist for G.W. Carver Middle School through Transformation Waco.
As a part-time lecturer at Baylor University, she is connecting students to the community as she instructs and trains them to become effective servant leaders. Shirley has over twenty years experience as an Employee Benefit Consultant with companies such as KPMG LLP and ING Investment Services.
Her service has been recognized in local and national newspapers, magazines, television and other media sources. She has been the recipient of the Greater Waco Interfaith Conference Humanitarian of the Year Award, the Mission Waco, Mission World Champions of Christian Service 2015 Award, the 2014 Northwest Texas Conference Anvil Award in Recognition of Outstanding Community Service, and the Waco Chapter of the Links, Inc. Meritorious Service Award.
Shirley holds a Bachelor of Arts & Science and a Masters of Arts in Counseling, both from Dallas Baptist University.
Needless to say, we're grateful for her experience and presence within Mosaic.